Russian attack bomber, heavy fighter and ground attack Petlyakov Pe-2 and Pe-3.
History, development, service, specifications, pictures and 3D model.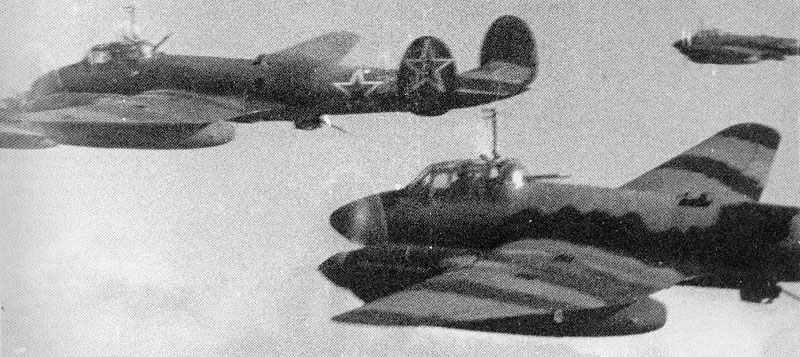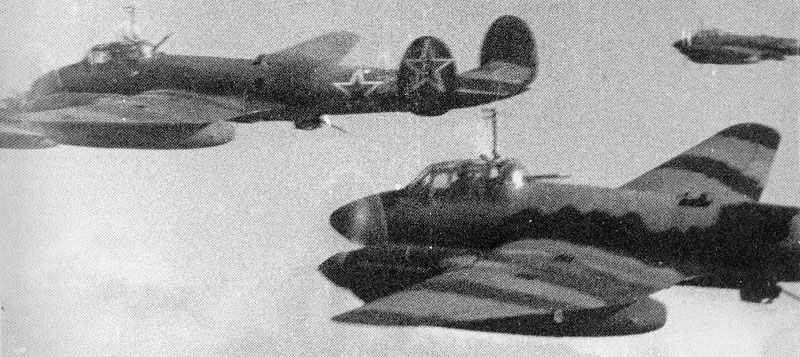 Petlyakov Pe-2, Pe-3.
Type: Attack bomber, dive bomber, heavy fighter, ground attack, reconnaissance aircraft.
History: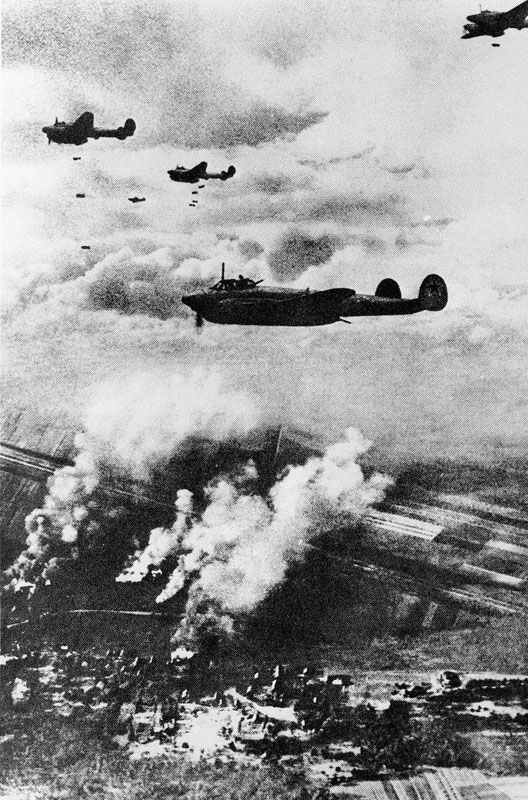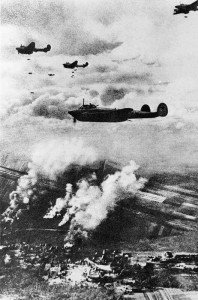 In a long operational career the Petlya­kov Pe-2 was extremely successful in a variety of roles: heavy fighter, light bomber, ground attack, reconnais­sance and night fighter. It may well have been the most versatile Russian combat type to enter service during World War II. Over 11,000 Pe-2s were built, and the type was improved steadily throughout the war. Along with the equally effective Ilyushin Il-2 Stormowvik, the Pe-2 provided the spearhead of the Red Air Force's tactical bomber units.
The Pe-2 project got under way in 1938, when a team headed by Vladimir Petlyakov began designing what was to be an extremely advanced aircraft for its time: a heavy twin-engined fighter with a pressurized cabin for high-­altitude combat. This was however never completed, because its specifica­tion was superseded by a call for a high-­altitude bomber instead of a fighter.
But despite the change in specification, much of the original design was kept. When the prototype appeared in 1939, its elegant lines created something of a stir, and its handling proved unusually lively for a bomber. Tests then revealed that the high-altitude sighting equip­ment was not satisfactory, and it was decided to convert the aircraft into a dive-bomber. The main alterations were a reinforced and reshaped tail­plane, and the installation of dive brakes on the wing under surfaces. It was this version of the Pe-2 that was first put into production and, beginning in 1941, first delivered to units.
An all-metal, low-wing mono­plane with twin vertical tail units and a retractable undercarriage, it was powered by 1,1OOhp Klimov M-I05Rs driving three-bladed variable-pitch metal propellers. This Petlyakov was the first Russian type in which great attention was devoted to the arrangement of the controls. In fact, it was almost overdone: there were 18 electrical servo-mechanisms and a hy­draulic system for the main controls.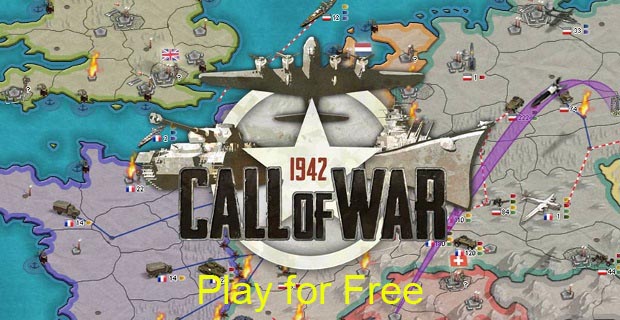 The dive-bomber version was followed by a heavy fighter that could also be used for long-range reconnaissance and ground attack. Beginning in 1942, the armament and armor were changed to allow the plane to withstand the newest German fighters.
An improved version appeared in 1943. It was powered by 1,210hp M-1O5PFs and incorporated several aerodynamic and structural altera­tions. The final versions, developed late in WW2 , were a long-range reconnaissance model, a trainer and a high-altitude fighter.
Ironically it was an accident with one of these aircraft that Petlyakov lost his life in 1942.
Users: Russia/Soviet Union.
---
Pictures
---
Specifications Petlyakov Pe-2 (bomber version 1942)
Specifications:

| Petlyakov Pe-2 | Specification |
| --- | --- |
| Type | Attack bomber |
| Power plant | Two Klimov (Hispano-Suiza basic design) vee-12 liquid-cooled M-105RA engines with 1,100 hp each |
| Accommodation | 3 |
| Wing span | 56 ft 3.5 in (17.16 m) |
| Length overall | 41 ft 6.5 in (12.66 m) |
| Height overall | 13 ft 1.5 in (4.0 m) |
| Wing area | 436 sq.ft (40.50 m²) |
| Weight empty | c. 12,900 lb (c. 5,870 kg) |
| Weight maximum loaded | 18,780 lb (8.520 kg) |
| Max wing loading | ? |
| Max power loading | ? |
| Max level speed | 336 mph at 12,990 ft (540 km/h in 3.960 m) |
| Cruising speed | 266 mph at 16,405 ft (428 km/h in 5.000 m) |
| Initial climb | c. 1,430 ft/min (ca. 436 m/min.) |
| Time to height | 7.0 minutes to 16,405 ft (7.0 min. to 5,000 m) |
| Service ceiling | 28,870 ft (8,800 m) |
| Range | 932 miles (1,500 km) |
| Range with maximum bomb load | 746 miles (1,200 km) |
| Range maximum | ? |
| Combat radius | ? |
Armament:

| Petlyakov Pe-2 | Specification |
| --- | --- |
| ahead | 4 xfixed 7.62-mm ShKAS machine-guns above nose (2) and beam (2) |
| upper rear position | 1 x 12.7-mm-BS in power turret |
| retracting ventral mount | 1 x 12.7-mm-BS machine-gun |
| bomb load | 2,205 lb (1,000 kg). Final models up to 6,615 lb (3,000 kg) |
Service statistics:

| Pe-2, Pe-3 | figures |
| --- | --- |
| First flight (VI-100) | 1939 |
| First production (Pe-2) | June 1940 |
| Final delivery | probably January 1945 |
| Unit cost | ? |
| Total production figure (all versions) | over 11,400 |
---
Animated 3D model Petlyakov Pe-2
---
References and literature
Combat Aircraft of World War II (Bill Gunston)
Technik und Einsatz der Kampfflugzeuge vom 1. Weltkrieg bis heute (Ian Parsons)
Das große Buch der Luftkämpfe (Ian Parsons)
Luftkrieg (Piekalkiewicz)
Flugzeuge des 2. Weltkrieges (Andrew Kershaw)
World Aircraft World War II (Enzo Angelucci, Paolo Matricardi)
The Encyclopedia of Weapons of World War II (Chris Bishop)
---