World's first jet bomber Arado Ar 234 Blitz.
History in WW2, development, service, specifications, statistics, pictures and 3D-model.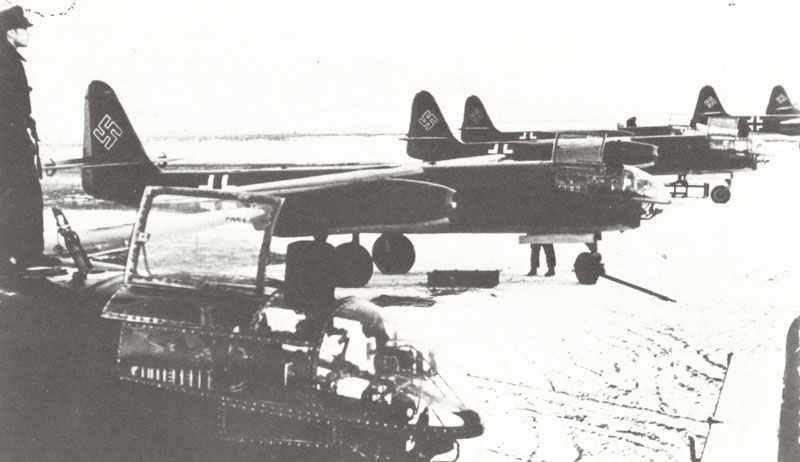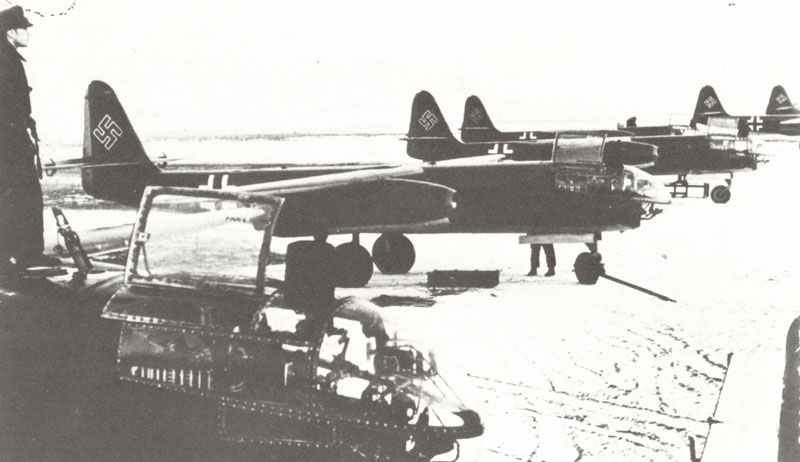 Arado Ar 234 Blitz.
Type: world's first jet bomber and reconnaissance aircraft.
History:
As the world's first jet bomber and reconnaissance aircraft the Ar 234 Blitz (Lightning) spearheaded Germany's remarkably bold introduction of high-performance turbojet aircraft in 1944. Its design was begun under Walter Blume in 1941, after long studies in 1940 of an official specification for a jet-propelled reconnaissance aircraft with a range of 1,340 miles (ca. 2,157 km). The design was neat and simple, with two of the new axial engines slung under a high wing, and the single occupant in a pressurized cockpit forming the entire nose. But to achieve the required fuel capacity no wheels were fitted. When it flew on 15 June 1943 the first Ar 234 took off from a three-wheel trolley and landed on retractable skids.
After extensive trials with eight prototypes the ninth flew with conventional landing gear, leading through 20 pre-production models to the operational Ar 234B-1, with ejection seat, auto-pilot and drop tanks under the engines. Main production centered on the Ar 234B-2, made in many sub-variants, most of them able to carry a heavy bomb load.
Reconnaissance service over the British Isles with the Ar 234 B-1 began in September 1944, followed by a growing force of Ar 234 B-2s which supported the Battle of the Bulge in the winter 1944-45.
Up to 14 December 1944 116 Ar 234s were built, of which some 55 were delivered to KG 76. By 21 December the move of the 9th Staffel of III/KG76 from Burg near Magedburg, where the unit was converting to the new type, to Munster-Handorf was complete and the first bombing operation with nine Ar 234 B-2s was successful flown on 24 December 1944 against traffic targets at Liege and Namur. Because of the high speed of the Ar 234's, fighter attacks from behind were not successful.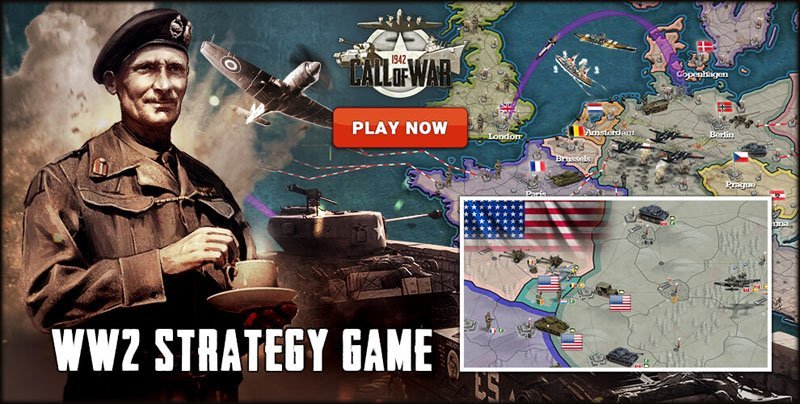 In March 1945 Ar 234 B-2s of III/KG76 repeatedly attacked the vital Remagen bridge across the Rhine with 2,2051b (1,000kg) bombs, causing its collapse. Though handicapped by fuel shortage these uninterceptable aircraft played a significant role on all European fronts in the closing months of the war.
Up to February 1945 all 210 aircraft from the initial order of the B-series were delivered, and production was stopped in favor of the four-jet C-series, which was to be built at Alt-Lonnewitz and Brandenburg-Neudorf. It was hoped that a monthly production rate of 500 aircraft would be reached by November 1945, but only 14 Ar 234 Cs were completed until the end of the war.
Users: Germany.
---
Pictures Arado Ar 234 Blitz
---
Specifications Arado Ar 234 B-2 Blitz
Specifications:

| Arado Ar 234 B-2 Blitz | Specification |
| --- | --- |
| Type | jet bomber |
| Power plant | two 1,980 lb thrust Junkers Jumo 004B axial turbojets |
| Accommodation | 1 |
| Wing span | 46 ft 3.5 in |
| Length overall | 41 ft 5.6 in |
| Height overall | 14 ft 1.3 in |
| Wing area | 284.17 sq.ft |
| Weight empty | 11,464 lb |
| Weight maximum loaded | 21,715 lb |
| Max wing loading | 74.42 lb/sq.ft |
| Max power loading | 5.47 lb/hp |
| Max level speed | 461 mph (without bomb load) |
| at height | 19,685 ft |
| Cruising speed | ? |
| at height | ? |
| Max speed at shallow-dive attack | 560 mph |
| initial climb | ? |
| Time | ? |
| to height | ? |
| Service ceiling | 32,810 ft |
| Range | 684 miles (with 3,307 lb bomb load) |
| Range maximum | 1,013 miles (without bomb load) |
| Combat radius | ? |
[/tableX]
Armament:

| Arado Ar 234 B-2 Blitz | Specification |
| --- | --- |
| in rear fuselage | Two fixed MG 151 20-mm cannon (720 rpm; velocity 1,920 ft.sec), firing to rear and sighted by periscope |
| bomb load | various combinations of powerful new explosive Trialen bombs slung under fuselage and engine to maximum of 3,300 lb |
Service statistics:

| Arado Ar 234 B-2 Blitz | figures |
| --- | --- |
| First flight (Ar 234 V1) | 15 June 1943 |
| Pre-Production (Ar 234 B-0) | 8 June 1944 |
| Operational delivery | September 1944 |
| First bomber combat mission | 24 December 1944 |
| Final delivery (B-2) | February 1945 |
| Unit cost | ? |
| Total production figure (all) | 228 |
| Accepted by Luftwaffe 1/39-12/44 (all versions) | 148 |
| Production 1939 | - |
| Production 1940 | - |
| Production 1941 | - |
| Production 1942 | - |
| Production 1943 | - |
| Production 1944 | 150 |
| Production 1945 | 78 |
| Ar 234 's in First Line Units 1.9.39 | - |
| Ar 234's in First Line Units 20.9.42 | - |
| Ar 234's in First Line Units 31.12.42 | - |
| Ar 234's in First Line Units 10.1.45 | 17 |
Animated 3D model Arado Ar 234 Blitz
---
References and literature
Combat Aircraft of World War II (Bill Gunston)
Technik und Einsatz der Kampfflugzeuge vom 1. Weltkrieg bis heute (Ian Parsons)
Das große Buch der Luftkämpfe (Ian Parsons)
Luftkrieg (Piekalkiewicz)
Flugzeuge des 2. Weltkrieges (Andrew Kershaw)
German Aircraft of World War 2 in Colour (Kenneth Munson)
Warplanes of the Luftwaffe (David Donald)
The Luftwaffe Album, Bomber and Fighter Aircraft of the German Air Force 1933-1945 (Joachim Dressel, Manfred Griehl)
Luftwaffe Handbook (Dr Alfred Price)
---