de Havilland Mosquito high-speed bomber.
History, development, service, specifications, pictures and 3D model for the light bomber of RAF Bomber Command in World War II.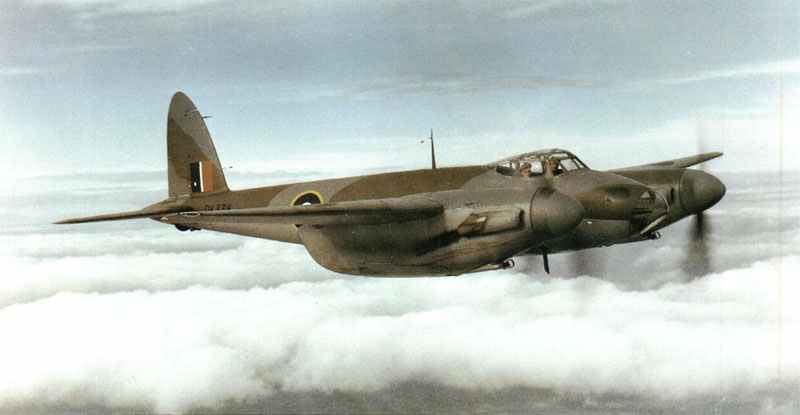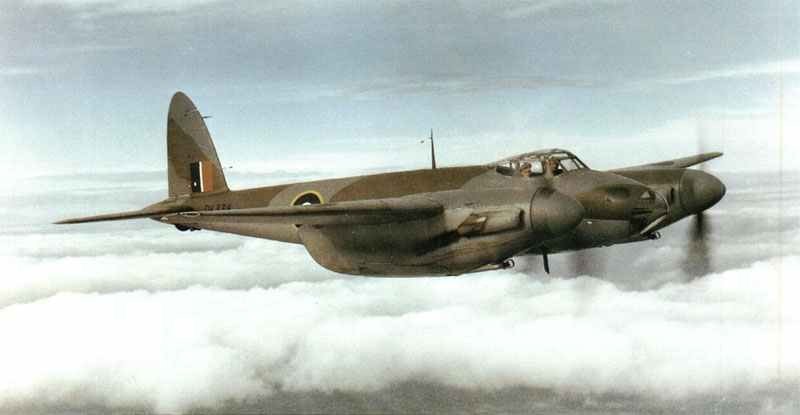 De Havilland Mosquito, DH 98
Type:.
Mosquito bomber
In October 1938, the development team under Geoffrey de Havilland, together with R.E. Bischof and C.C. Walker, began work on a light bomber, which was to be constructed entirely of wood in order to minimize the need for strategically important materials, which would become important in the event of war.
The British Air Ministry was not interested and suggested that the de Havilland Works should produce wings for existing heavy bombers. Therefore, the first prototype was built secretly at Salisbury Hall by a team of only 12 men in January 1940.
Only reluctantly did the Air Ministry then allow work to continue, since an unarmed aircraft could only be imagined as a reconnaissance plane. The team working on the prototype therefore increased to 30 men in the summer of 1940.
After an order in 1940 for 50 aircraft according to the B.I/40 specification, the first prototype of the de Havilland Mosquito then flew on November 25, 1940. The aircraft was powered by two 1,460-horsepower Merlin 21 engines.
From the start, it showed outstanding performance and was even faster than the RAF's current fighter planes.
Service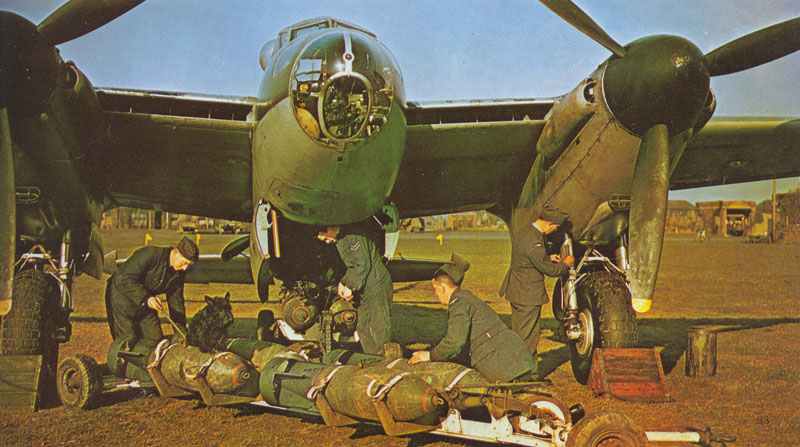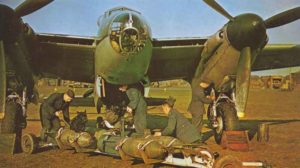 Of the first production aircraft, 10 were converted into the De Havilland Mosquito B IV light bomber with a glazed nose and an internal bomb bay. The first of these bombers, serial number W4072, flew on September 8, 1941.
The main production model was the Mosquito B IV Series II, which had Merlin 21, 23, or 25 engines in extended nacelles. The 105th Squadron, stationed at Marham at the time as part of the 2nd Bomber Group, received the first of these Mosquito B IV Series IIs in the spring of 1942.
The first mission was flown against Cologne on May 31, 1942, the morning after the first '1000 bomber raid'.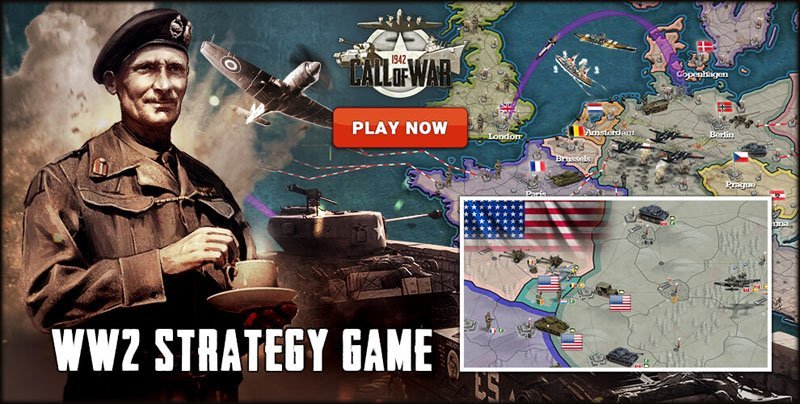 Crews quickly learned to use the Mosquito's speed as the main defense against enemy fighters, since this type was completely unarmed.
Low-level attacks with a dive on the target soon became standard tactics in daytime operations, and one of the 105th Squadron's first important attacks on Gestapo headquarters at Oslo, Norway, was made in this manner.
Along with the German Ju 88, the Mosquito arguably became the most versatile aircraft of World War 2. In addition, it was among the most successful and was present on pretty much every front.
However, the wooden aircraft became most famous during its missions in Northwest Europe with the RAF's Bomber, Fighter and Coastal Command. Although the 'Mossie', as it was known to its crews, made a major contribution to the scouting units of Bomber Command, it was the light bomber missions that produced the most dramatic results.
The need for Mosquitos for reconnaissance and as night fighters was so great at this time that the formation of additional bomber units proceeded slowly. It was not until the fall of 1942 that the 139th Squadron began to convert to Mosquito B IV bombers.
Along with the 105th Squadron, their Mosquito bombers were over Berlin on the morning of January 30, 1943, causing considerable confusion when several speeches were made by Nazi leaders to mark the tenth anniversary of Hitler's seizure of power.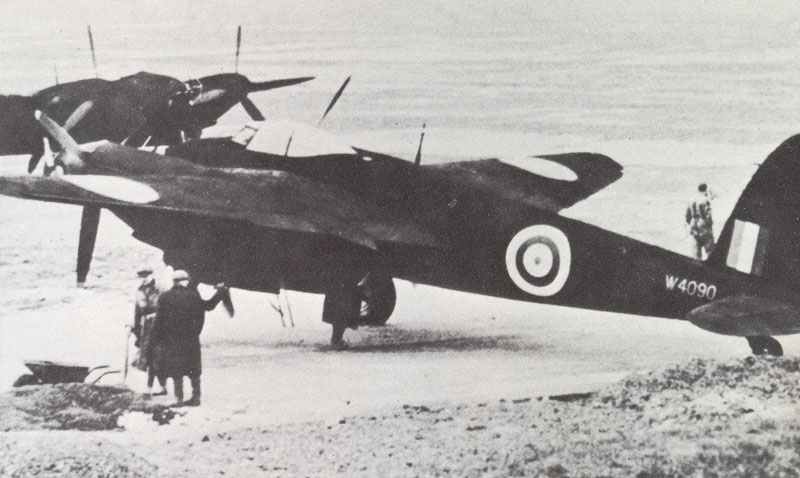 More missions against key targets followed until the 2nd Group became part of the 2nd Tactical Air Force from 1 June 1943, where they were used with the 109th Squadron on scouting missions.
They continued their jamming attacks while doing so, diverting attention from the bomber stream with the heavy, four-engine bombers, and were gradually upgraded to the B Mk IX and XVI.
Reconnaissance and bomber versions of the Mosquito roamed the occupied territories of Western Europe and Germany almost unchallenged in 1943 and 1944, so in 1943 the German Air Force formed two special fighter groups, Nos. 25 and 50, which were equipped with souped-up Messerschmitt Bf 109G-6 fighters, but even these were unsuccessful against the Mosquito fast bombers.
When the 'Light Night Striking Force' was formed in early 1944 as part of the 8th (PFF) Group, it consisted of the 139th, 627th and 692nd Squadrons. However, the 627th Squadron was soon withdrawn to be used as target bombers with the 5th Group.
Later, the 128th, 571st, and 608th Squadrons joined the LNSF (Light Night Striking Force) and participated in regular jamming raids over Germany, guiding heavy bombers with their Oboe equipment to targets and attacking them with a precision rarely achieved.
The well-known 'Dambuster' Squadron 617 also used Mosquito bombers of types Mk IV, IX, XVI, XX and 25 to mark targets in low-level flight.
'Mossies' were likewise used by the bomber and fighter squadrons of the 100th(BS) Group for electronic warfare and jamming attacks.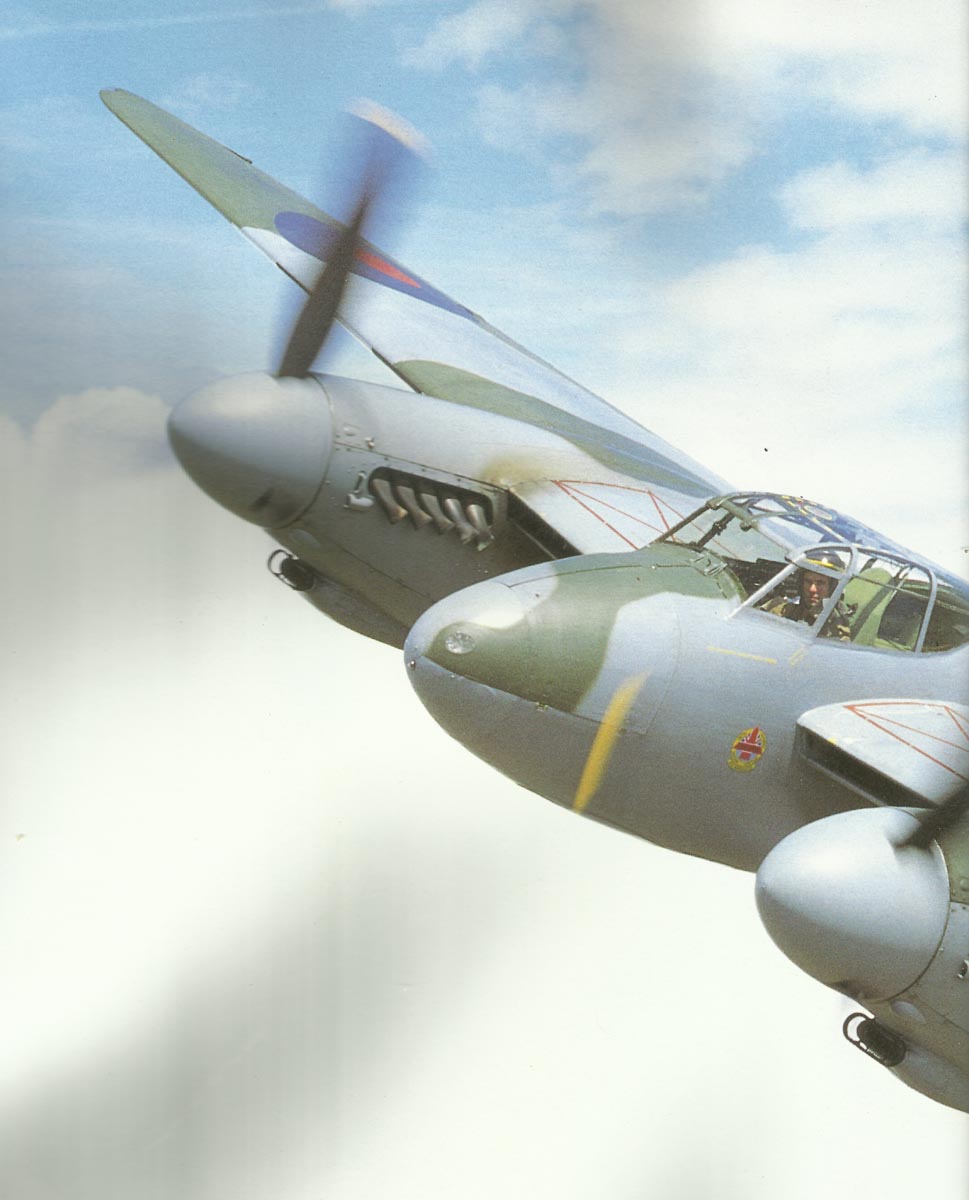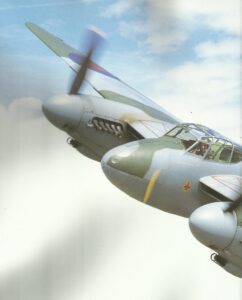 Modified Mosquito B IV bombers, which could carry a 4,000 lb (1,814-kg) bomb in a larger, domed bomb bay, were used by the British Bomber Command. These served in the 'Light Night Striking Force' and were equipped with Oboe Mk I to III target-finding equipment.
Between January and May 1945 alone, these Mosquito bombers dropped 1,459 'blockbuster' bombs on Berlin alone, plus another 1,500 on other targets.
Later versions of the 'Mossie' were already delivered from the factory with the large, domed bomb bay and additional 455-liter drop tanks as standard.
In Canada, the Mosquito bomber was built as the B.Mk VII with 1,418-horsepower Packard Merlin 31 engines. In addition, 45 Mosquito B Mk IX bombers were built with additional bomb load and Merlin 72 engines. De Havilland's manufacturer in Canada also built the Mosquito B XX and B 25 before the war ended.
The most effective bomber version was the Mosquito B Mk XVI with pressurized cabin, extensive navigation equipment and the large, domed bomb bay. Loaded with this equipment, this aircraft could reach an altitude of 37,000 feet (11,280 meters) at a speed of 410 mph (660 km/h).
Bomber Command statistics at the end of the war indicate 39,795 sorties in which 254 Mosquito bombers were lost. This is thus the lowest loss rate of any bomber used by British Bomber Command.
Total production was 7,781 aircraft of all Mosquito models, which were built in Britain, Canada and Australia.
---
Bomber, trainer and reconnaissance versions
PR I : unarmed photo reconnaissance aircraft with wingspan increased from 52ft 6in (16 m) in the prototype to 54 ft 2 in (16.51 m), but still short engine nacelles.
T III : trainer with dual controls. First flight January 1942, but mainly produced after WW2. Final delivery 1949.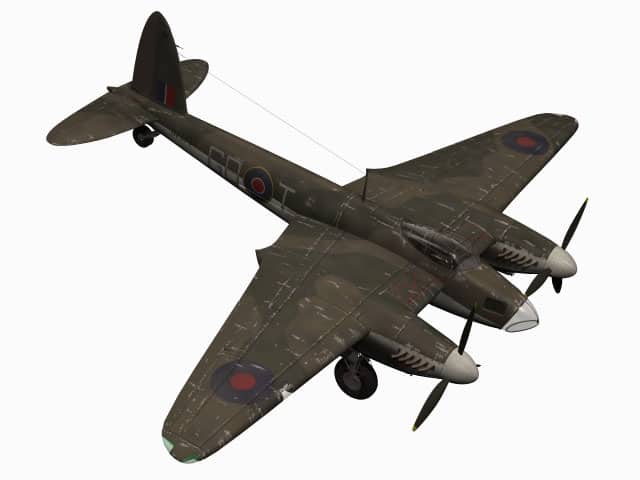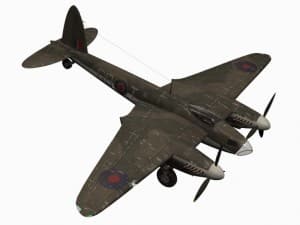 B IV : Unarmed Mosquito bomber with four 500 lb (227 kg) internal bomb loads.
First delivery to 105th Squadron at Swanton Morley in November 1941.
First mission on 31 May 1942 against Cologne, after first night raid with 1000 bombers. Later fitted with bomb bays for 1814 kg bombs.
VII : Canadian-built Mk IV. Was used only in North America.
PR VIII : reconnaissance version of the B IV with high performance Merlin 61 engine.
Mk IX : major improvement of the bomber and reconnaissance versions. High performance engines and fuselage bay for 4,000 lb (1,815 kg) bombs or additional fuel, increased payload, improved propellers, new avionics with Rebecca, Boozer Oboe or H2S Mk VI radars.
Mk XVI : major development with two-stage Merlin engine, expanded bomb bay and pressurized cabin.
The PR XVI flew in July 1943, the B XVI in January 1944.
Later used over 1,200 Mosquito bombers B XVI with 4,000 lb (1,815 kg) bombs for jamming attacks from high altitudes.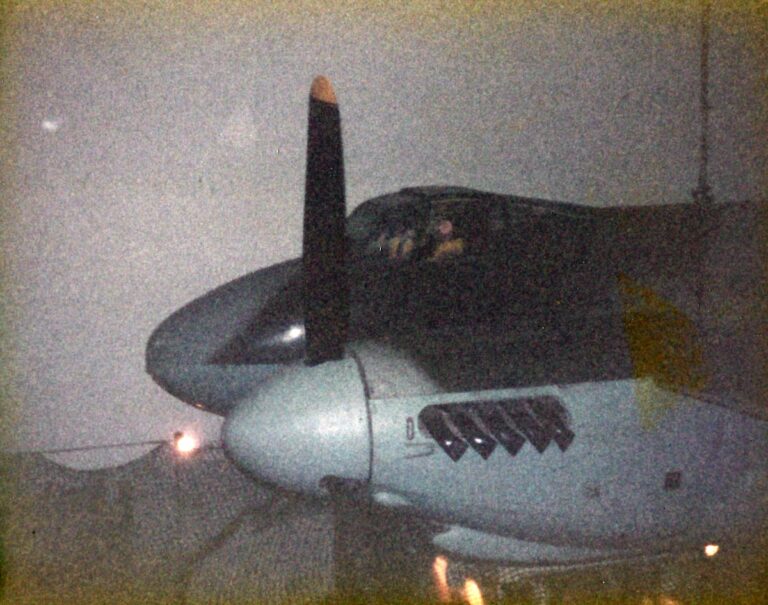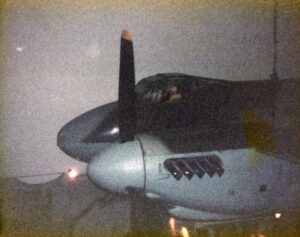 B XX : Canadian-built B IV (USAAF designation F-8).
PR 32 : reconnaissance aircraft with increased wingspan and Merlin 113/114 engines.
PR 34 : strategic reconnaissance aircraft with Merlin 113/114 engines, extra large 5,770 liter underfuselage tank (910 liter drop tanks) and pressurized cabin.
B 35 : corresponding bomber version with device for photo-reconnaissance and target towing.
T 43 : Australian trainer. All Australian types equipped with American Packard engines.
Users: UK (RAF, RN), Australia, Belgium, Canada, China, Czechoslovakia, Free-French, Yugoslavia, New Zealand, Norway, Russia, Turkey, USA (USAAF).
(Nationality list for all types, including Mosquito FB fighter-bomber and fighter versions).
---
Animated 3D model of de Havilland Mosquito bomber
---
Specification for de Havilland DH 98 Mosquito B.IV
Specification:

| de Havilland DH 98 Mosquito B.IV | specification |
| --- | --- |
| Type | high-speed day or night bomber |
| Power plant | two Rolls-Royce Merlin 21 engines, each with 1,230 hp |
| Accommodation | 2 |
| Wing span | 54 ft 2 in |
| Length overall | 40 ft 6 in |
| Height overall | 15 ft 3.5 in |
| Weight empty | 14,100 lb |
| Weight loaded maximum | 22,500 lb |
| Maximum speed | 380 mph |
| Initial climb (F.II) | 1,740 ft/min |
| Service ceiling | 25,400 ft |
| Range | 2,030 miles |
Armament:

| de Havilland DH 98 Mosquito B.IV | specification |
| --- | --- |
| Bomb load | four 500 lb bombs internally, some later 4,000 lb bomb |
Service statistics:

| de Havilland DH 98 Mosquito B.IV | specification |
| --- | --- |
| First flight (prototype) | 25 November 1940 |
| Service delivery | November 1941 |
| First combat mission | 31 May 1942 |
| Final delivery (T.III) | 1949 |
| Total production figure | Total: 7,781 (6,439 during WW2, of these more than 1,200 Mk B.XVI) |
| Operations in WW2 | 39,795 (28,639 as bomber) |
| Losses | 396 (100.5 ops per loss) |
| Bomb tonnage on targets | 26,867 (0.94 tons per bomber operation) |
---
References and literature
The Encyclopedia of Weapons of World War II (Chris Bishop)
Combat Aircraft of World War II (Bill Gunston)
Technik und Einsatz der Kampfflugzeuge vom 1. Weltkrieg bis heute (Ian Parsons)
Das große Buch der Luftkämpfe (Ian Parsons)
Luftkrieg (Piekalkiewicz)
---