German transport plane Junkers Ju 52/3m 'Auntie Junkers' of World War II.
History, development, service and dive-bombing tactics, specifications, pictures and 3D model.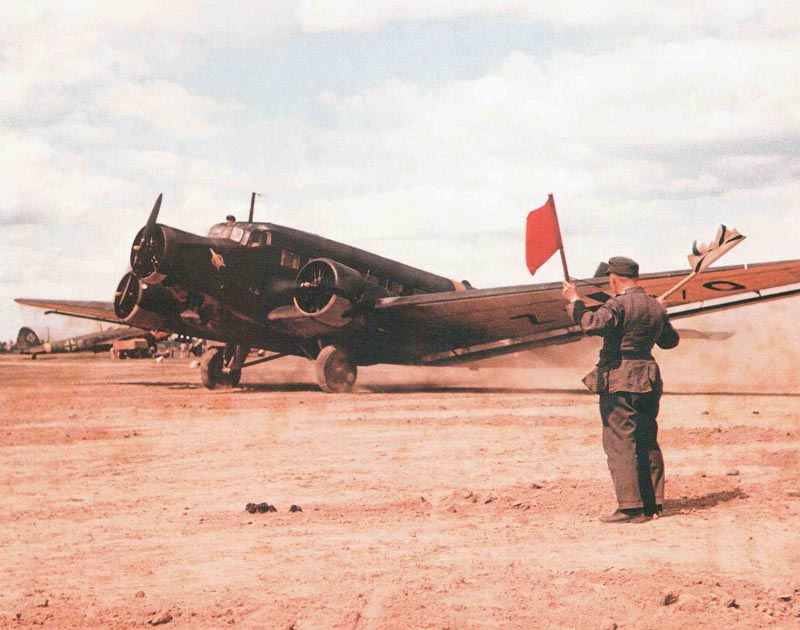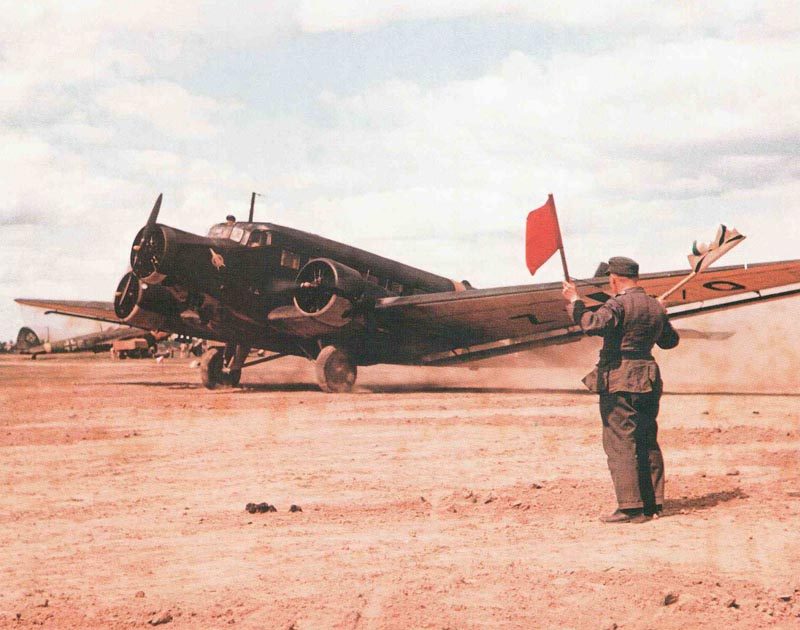 Junkers Ju 52/3m
Type: Passenger and freight transport; also bomber, reconnaissance, mine countermeasures, casualties evacuation and glider tug.
History
Often called 'Tante Ju' (Auntie Junkers) or 'Iron Annie', the Ju52/3m (trimotor) had been the most important Luftwaffe transport plane of WW2, operating in all theaters as well as on every important fronts.
The Ju 52 began being a single engine transportation development for airlines by Ernst Zindel in 1928, and the prototype of this plane made its maiden flight on October 13, 1930, having a 750hp Junkers Jumo power plant. The plane had been a low wing monoplane create with a large angular fuselage and big passenger windows, along with a fairly huge wing area. The plane had been of all metal fabrication and used the following common characteristic of Junkers load-bearing corrugated skin. This given a significantly robust airframe, which was what afterwards allowed the Ju 52 to be so useful.
6 months later on, in April 1931, the 3-engine Ju52/3m made its initial flight operated by 550hp Pratt & Whitney Hornet radial motors. 725hp BMW 123A radial motors had been afterwards designed for all but a handful of very first manufacturing planes. Almost all first Ju 52s were civilian passenger planes and some Two hundred had been delivered to Thirty airline enterprises all over the world until 1939, the bulk joining Deutsche Lufthansa. 75 per-cent of the aircraft inventory of Lufthansa made by Ju 52s, which reduced the emergency landings from 7 to 1.5 per million flight kilometers.
A few of these planes had been equipped with two-step steel floats and in this arrangement they were named Ju 52/3mW.
Following the failure of the Dornier Do 11, the Luftwaffe as well requested a number of original Ju 52s as provisional bombers, awaiting the supplies of the Ju 86, Dornier Do 17 and He 111.
These first bombers were named Ju 52/3mg3e and armed the Luftwaffe's first bomber squadrons mainly as schooling planes. They were able to transporting a 3,311 lb (1,500 kg) bomb load. The semi­-retractable ventral 'dustbin', mounting a 7,92 mm MG 15 machine-gun, had been commonly removed from the early transports aircraft, even though they kept the single MG 15 placed in an open dorsal position to give rearward protection.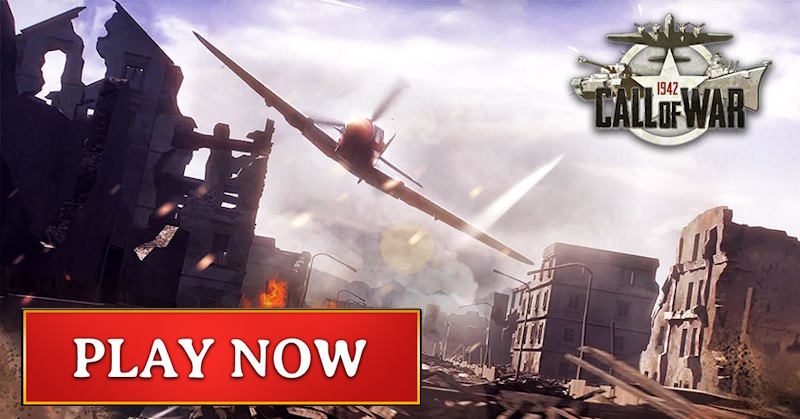 The fighting introduction of the Ju 52 arrived in the Spanish Civil War where the 20 operational aircraft flew 13,000 operational hours and dropped some 6,000 tonnes of bombs. After 1937, nevertheless, the Ju 52/3m ended up mainly replaced in the bomber part with the Luft­waffe by modern-day models like the Ju 86, He 111 and Do 17, and was alternatively carrying out the better suitable part of supply and troop transport for which it was afterwards in becoming world-famous.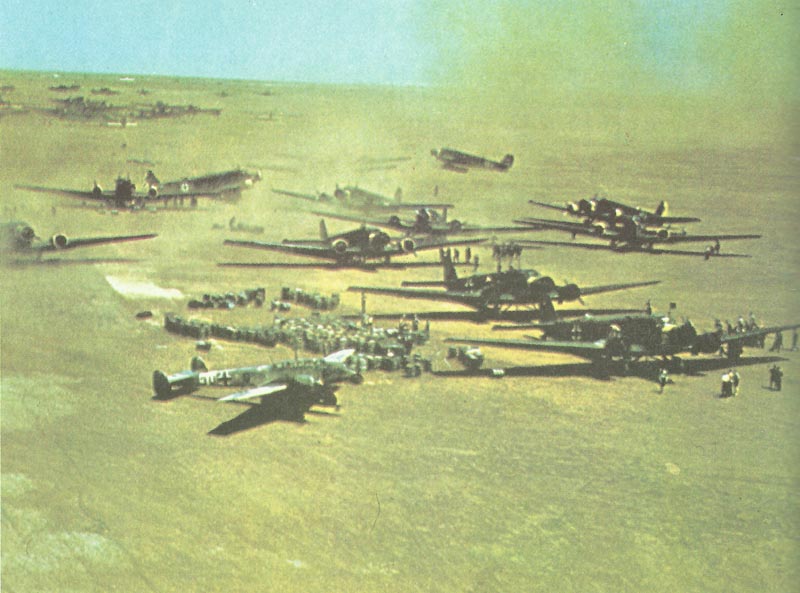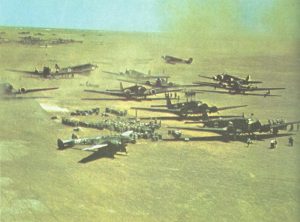 The majority of the Ju 52s delivered as 'bombers' had been in no way utilized as such, and as beginning as 1938 the Ju 52 had been appearing to be an outstanding STOL (Short Take Off and Landing) army transport. Probably the most eminent characteristic of the Ju 52 had been its capability to take off 100 % loaded (at 10,476kg) at 68 mph (109 km/h) in only 1,150 ft (350 metres).
A full loaded Ju 52 has also been capable of land inside a range of just 1,312 ft (400 metres), except for the most unfavorable circumstances. Numerous current military STOL aircraft don't have a substantially superior performance. Additionally, the rugged undercarriage and really robust airframe allowed the Ju 52 to use non-tarmacked and somewhat harsh air stripes.
Ju 52s flexibility was improved by the opportunity to run from wheel, twin-float landing or ski gear.
Right after the Ju52/3mg3e with 725 hp BMW 132A-3 motors emerged subsequent military versions identified by suffixes from g4e to g14e, which represented either the particular purpose of a specific version (ambulance, transport, mine clearance etc), the use of subsequent variations of the BMW 132 power plant, which was a license-built type of the Hornet, or various design modifications.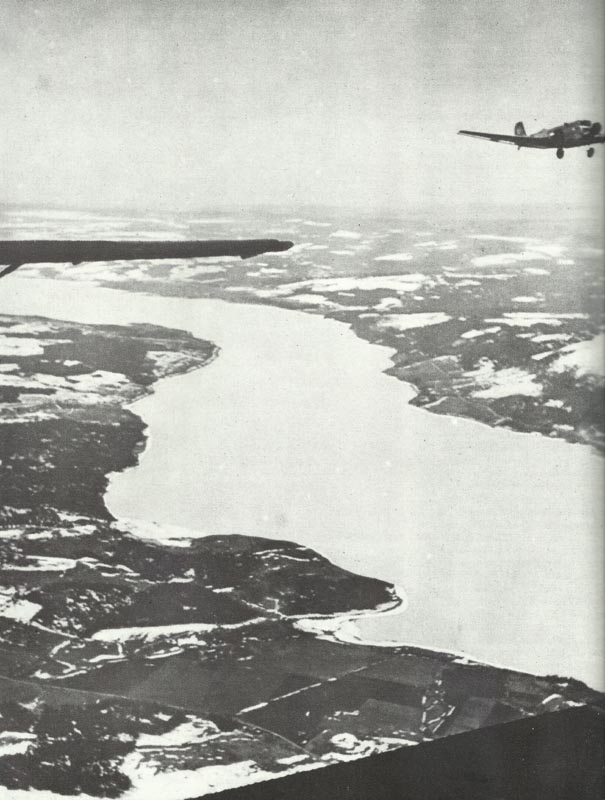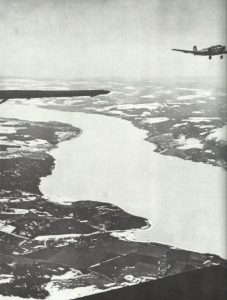 From the beginning of WW2 some 1,600 Ju 52s had been delivered and about 550-600 found operational action throughout all the first Blitzkrieg campaigns. They were employed wide-spread as glider tugs, transport aircraft, as well as for massive and also small-scale paratroop operations during Operation Weseruebung (Weser crossing) – the invasions of Norway -, in the Low Countries, France and the airborne invasion of Crete.
The 1940 invasion of Norway had been particularly important since it included the first large-scale use of air transport in a conflict. During this campaign the Ju 52 transferred great number of mountain troops , dropped numerous paratroopers, as well as kept them all supplied by airlift. Ju 52/3mW (Wasser) float planes additionally arrived within the fjords and disembarked attacking soldiers with equipment. Nevertheless, like the majority of WW2 transport aircraft the Ju 52 was a lumbering plane having a top speed of only 178 mph (286 km/hr), and without having fighter escort they couldn't exist much time in the existence of opponent fighter planes. During these campaigns about 25 percent of all Ju 52s employed had been lost, despite the fact that an essential quantity of these were shot down by anti-aircraft guns or had been wrecked on airfields.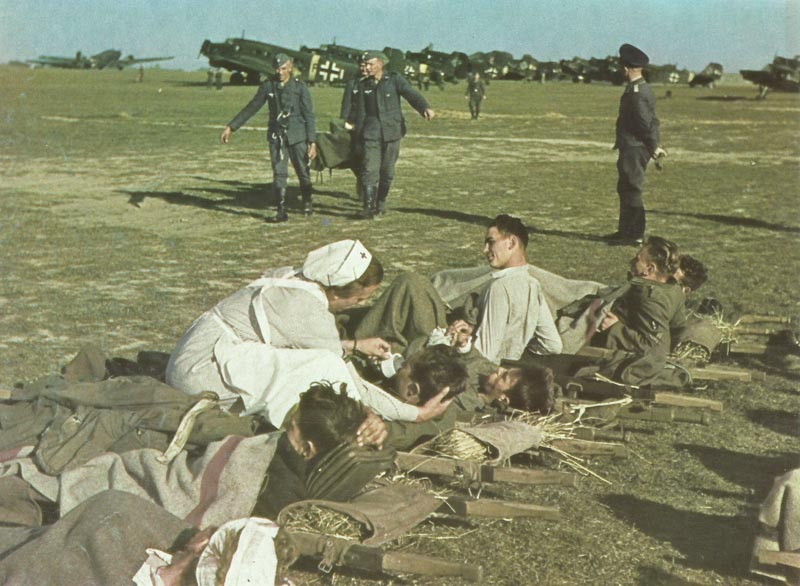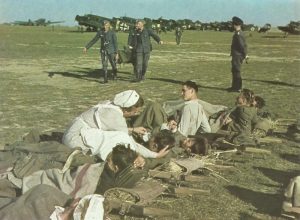 At the end of 1940 the Ju 52's motors had been improved, and the Ju 52/3mg5e enjoyed the more potent 830hp BMW 13T radial motors while the latter on Ju 52/3mg9e had the BMWI32Z and the Ju52/3mg12e 800hp BMW 132L engines. The Ju 52/3mg6e had been identical to the Ju 52/3mg5e except for its radio equipment.
Among the primary manufacturing models, the Ju 52/3mg7e, offered larger cabin doors along with other detail improve­ments, and it was provided with an autopilot; it could be equipped either as an 18-seat troop transport or as an ambulance plane with arrangement for twelve stretchers, two of the main functions fulfilled by the Ju 52.
On June 21, 1941 there have been 355 Ju52/3m used in the equivalent of 9 KGr zbV (Kampfgruppe zu besonderen Verwendung = 'special purpose transport-bomber groups'), in readiness to assist Operation Barbarossa. By this occasion the Ju 52/3mg5e had been the major model in service. Consequently, nearly 63 percent of the 567 transport planes in the Luftwaffe's park on June 21, 1941, had been used on the Russian Front. The sole additional significant strength of transport planes at the moment was in X Fliegerkorps at Germany, which had assisting operations in the Mediterranean. This Fliegerkorps still held the same as 5 KGr zbV groups (with 164 aircraft), which were recovering from losses suffered during the German airborne invasion of Crete (Operation Merkur = 'Mercury'). 4 of these KGr zbV groups had been strengthened and moved to the Russian Front from August 1941 to October 1941.
Later on Ju52s also got additional defensive armament and armor protection round the cockpit. Now the defensive armament generally composed of a single 13 mm MG 131 in the dorsal placement, 2 x 7.92 mm MGs shooting from beam positions, and frequently an additional 7.92 mm MG in the ventral position. Using the improved motor power the Ju 52/3mg5e could lift 4,530 kg of cargo and fuel, which was just 510 kg less than the Douglas C-47A Skytrain or Dakota, which had been not armed and saved weight therefore.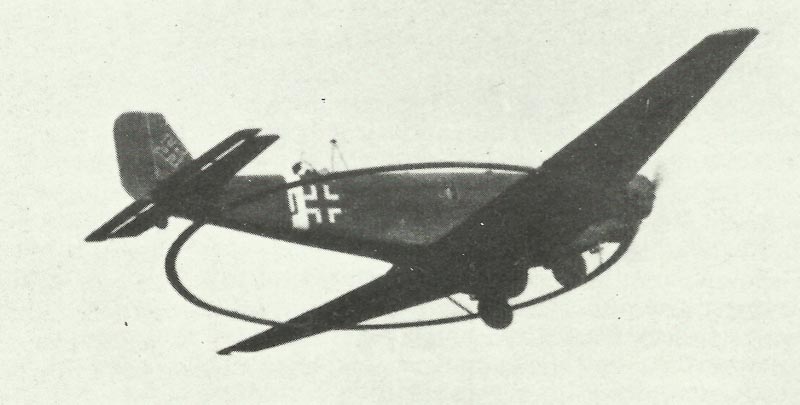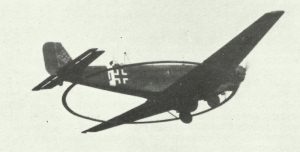 In several other forms and sub-variants, the Ju 52 continued to be employed as an ambulance plane equipped for a dozen victims, a flying classroom, a ski aircraft, a heavy glider tug, or even mine search aircraft, designated Ju 52/3m(M Minensuchflugzeug. In the last mentioned function a big electrically energized circular ring had been installed under the plane which in turn needed to travel really low over the sea in order to blow-up magnetic mines.
Manufacture of the Ju 52/3m was to proceed in Germany until July 1944, the entire quantity made – which includes civil examples as well as wartime batches manufactured in France (361), Hungary (26) and Spain (70)­ ultimately hitting around 4,850 aircraft.
Recommended replacements, the Ju 252 and Ju 352, didn't arrive in quantity, and the Ju 52/3m in fact soldiered on until a long time after the end of WW2. The Ju 52 continued to be in civilian and military service for outstanding Forty three years, from 1932 to 1975.
Users: Argentina, Colombia, Ecuador, France, Germany, Hungary, Peru, Portugal, Slovakia, Spain, Sweden.
---
Animated 3D model of Junkers Ju 52/3mg9e 'Tante Ju'
---
Specification Junkers Ju 52/3mg7e
Specification:

| Ju 52/3mg7e | Specification |
| --- | --- |
| Type | transport plane |
| Engine | 3 x 830 hp BMW 132T-2 |
| Accommodation | 3 crew + 17 passengers/troops |
| Wing span | 95 ft 11.6 in (29.25 m) |
| Length overall | 62 ft 0.1 in (18.90 m) |
| Height overall | 18 ft 2.5 in (5.55 m) |
| Wing area | 1,189.41 sq ft (110.50 m²) |
| Weight empty | 14,300 lb (6,500 kg) |
| Weight loaded | 24,251 lb (11,000 kg) |
| Max wing loading | 20.39 lb/sq ft (99.5 kg/m²) |
| Max power loading | 9.74 lb/hp (4.42 kg/hp) |
| Max level speed | 178 mph (286 km/hr) at 4,595 ft (1,400 m) |
| Cruising speed | 157 mph (253 km/hr) at 4,595 ft (1,400 m) |
| Initial climb | 689 ft/min (210 m/min) |
| Time to height | 9,845 ft (3,000 m) in 17.5 min |
| Service ceiling | 19,355 ft (5,900 m) |
| Range | 683 miles (1,100 km); max. 808 miles (1,300 km) |
Armament:

| Ju 52/3m | Specification |
| --- | --- |
| open rear dorsal cockpit | 7.92mm MG 15 (later 13mm MG 131) manually |
| from beam window | 2 x 7.92mm MG 15 (one on left, one on right side |
| dorsal position | sometimes 7.92mm MG 15 |
| Bomb load | 3,311 lb (1,500 kg) in bomb bay |
Service statistics:

| Ju 52 | figures |
| --- | --- |
| First flight Ju 52 | October 13, 1940 |
| First flight Ju 52/3m | October 1930 |
| First flight Ju 52/3mg3e bomber | October 1934 |
| Final delivery | in Germany July 1944 (France August 1947; Spain 1952) |
| Total production figure (all) | c. 4,850 |
| Accepted by Luftwaffe January 1939 to December 1944 | 3,229 |
| Production 1939 | 145 |
| Production 1940 | 388 |
| Production 1941 | 502 |
| Production 1942 | 503 |
| Production 1943 | 887 |
| Production 1944 | 379 |
| Available 1.9.39 | 547 |
| Available 21.6.41 | 567 (355 on Russian front) |
| Available 20.9.42 | 185 (only in transport units at front) |
| Available 31.12.42 | ? |
| Available 10.1.45 | 309 |
---
Animated 3D model of Junkers Ju 52/3mg5e with ski and dorsal machine-gun
---
References and literature
The Encyclopedia of Weapons of World War II (Chris Bishop)
Operation Barbarossa: the Complete Organisational and Statistical Analysis, and Military Simulation, Volume I – IIIB (Nigel Askey)
Combat Aircraft of World War II (Bill Gunston)
Technik und Einsatz der Kampfflugzeuge vom 1. Weltkrieg bis heute (Ian Parsons)
Das große Buch der Luftkämpfe (Ian Parsons)
Luftkrieg (Piekalkiewicz)
German Aircraft of World War 2 in Colour (Kenneth Munson)
Warplanes of the Luftwaffe (David Donald)
The Luftwaffe Album, Bomber and Fighter Aircraft of the German Air Force 1933-1945 (Joachim Dressel, Manfred Griehl)
Luftwaffe Handbook (Dr Alfred Price)
---