Messerschmitt Bf 109 G series in foreign service.
History, development, service, specifications, pictures and 3D model.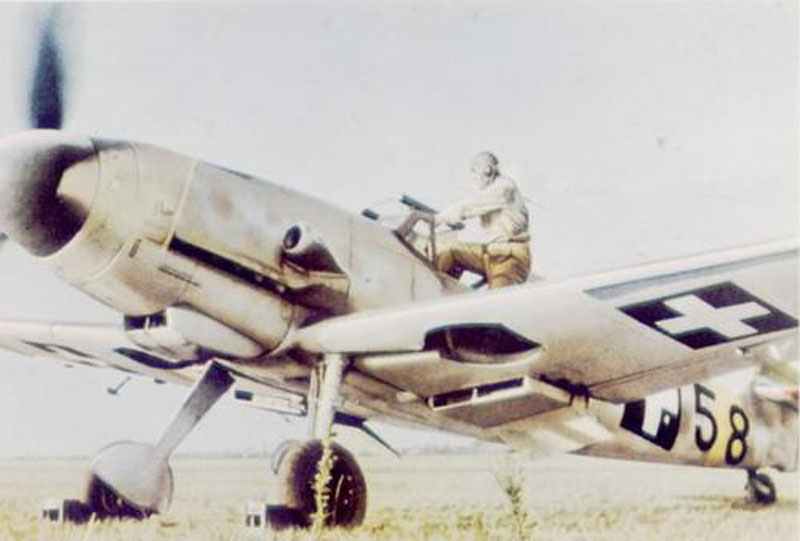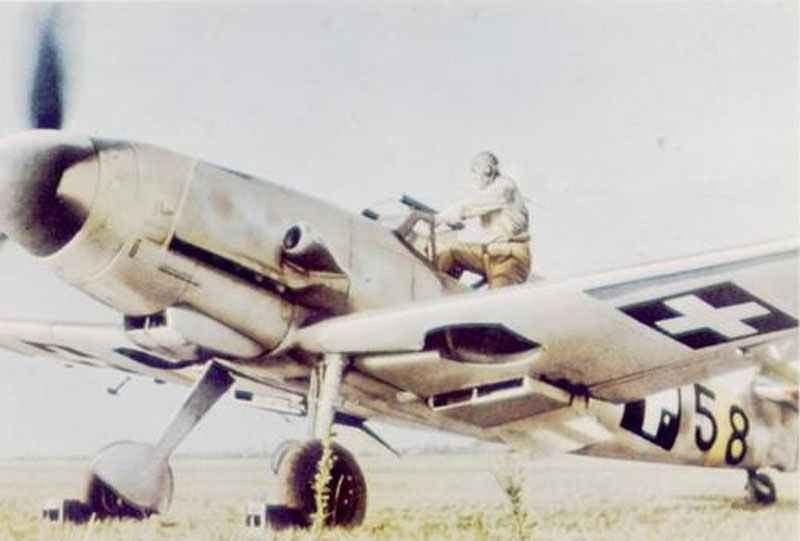 Messerschmitt Bf 109 Gustav in foreign service.
Type: German single-seat fighter.
Me 109 Gustav in foreign service
Foreign service and manufacture of the Bf 109 Gustav series was fairly widespread.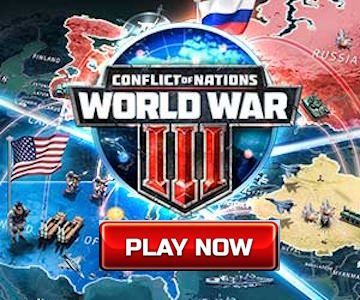 Hungary:
The Royal Hungarian Air Force received 59 German-made Gustavs (G-2, G-6) in addition to about 700 aircraft built at factories at Gyor and Budapest. The Duna works were switching from the Me 210 to the Bf 109 G in March 1944. The first units to receive these fighters were the 5/1 and 5/2 Squadrons of the 5/I Fighter Group, fighting on the Russian Front. Later on the 5/1. Squadron was withdrawn and the 5/2. Squadron expanded to form the 102. Independent Fighter Squadron. In 1944 the 101st Fighter Group, known as the Puma Group under Obstl. Alador Heppes, was established to defend Hungary itself against advancing Russian forces.
---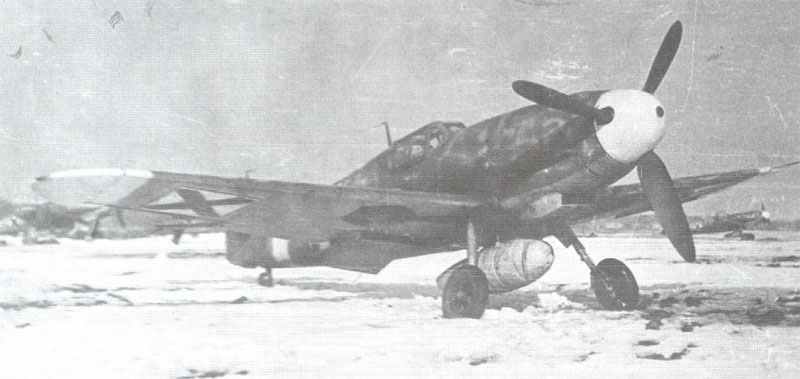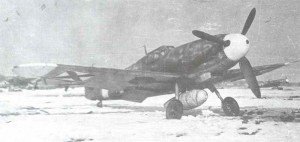 Bulgaria:
145 Gustavs were delivered to Bulgaria in 1943-1944 and served with the Sixth Fighter Regiment of the Bulgarian Air Force in defense of Sofia in April 1944.
---
Slovakia:
Slovakia received 15 Gustavs (G-6) in 1944 and license-production was planned of the G-14 at the Prague-Cakowicze Avia factory. But this happens not before the war ended and then for the Czechoslovak air force. In March 1948 several were sold to Israel.
---


Croatia: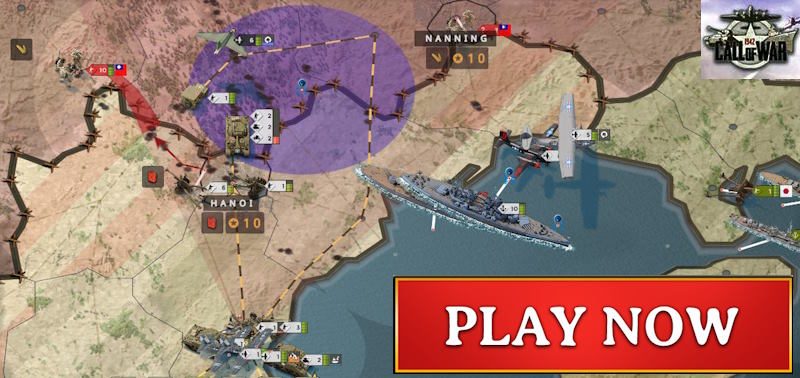 About a dozen G-10s were flown by Croat pilots in the 15 (Croat) Staffel of JG52, led by Obstl. Fanjo Dzal, which fought at the Battle of Kursk.
---
Finland:


Finland received 30 Bf 109 G-2s, 132 G-6s and a few G-14s, and the first unit thus equipped was HLeLv 34 based at Utti in 1943. They were flown by such outstanding Finnish aces as Juutulainen (94 victories) and Hasse Wind (78 victories).
---
Romania:


Romania received seventy Gustavs (principally G-6s) from Germany in addition to 16 built at the IAR factory at Brasnov before it was destroyed by bombing.
---
Italy:


Bf 109 G-6s were in use with the Italian air force not later than from 1943 onwards. The Fascist air force of the Italian Socialist Republic in Northern Italy received G-6s in 1944.
---
Neutrals
Spain:
Spain has used the Bf 109 and its derivatives longer than any other country, since the debut of the Me 109B during the Civil War in 1937. During WW2 the country received a total of 95 airframes of the Bf 109 and these entered service with Spanish engines and under Spanish designations. They included 45 Me 109B, 15 Me 109E, 10 Me 109F, 25 Me 109G.
Switzerland:
Switzerland's procurement of 12 G-6s from Germany is a macabre story, for these fighters were supplied in return for the destruction of a new radar-equipped Me 110 G-4/R7 night fighter which made a force-landing at Dubendorf on 28 April 1944. The G-6s, plus a further two which were sequestrated after straying into Swiss air space, were delivered to Fliegerkompanie 7.
---
Animated 3D model Messerschmitt Bf 109 G-6/Trop
---
Specifications Messerschmitt Bf 109 G-6
Specifications:

| Me 109 G-6 | Specification |
| --- | --- |
| Type | single-seat fighter |
| Power plant | 1 x 1475 hp DB 605AM |
| Accommodation | 1 |
| Wing span | 32 6.7 ft (9.924 m) |
| Length overall | 29 0.3 ft (8.848 m) |
| Height overall | 10 6.0 ft (3.20 m) |
| Wing area | 174.38 sq ft (16.20 m²) |
| Weight empty | 5,897 lb (2,675 kg) |
| Weight loaded | 6,944 lb (3,150 kg) |
| Max wing loading | 39.82 lb/sq ft (194.44 kg/m²) |
| Max power loading | 4.70 lb/hp (2-13 kg/hp) |
| Max level speed | 386 mph at 22,640 ft (621 km/hr at 6,900 m) |
| Cruising speed | 311 mph at 19,685 ft (500 km/hr at 6,000 m) |
| Initial climb | c. 3,500 ft/min. (c. 1,067 m/min.) |
| Time to height | 16,405 ft in c.5.0 min (5,000 m in 5 min) |
| Service ceiling | 37,895 ft (11,550 m) |
| Range | 621 miles (1,000 km) |
Armament:

| Me 109 G-6 | Specification |
| --- | --- |
| through propeller hub | 1 x 30mm MK 108 (650 rpm, velocity 1705 ft.sec) |
| above engine | 2 x 13mm MG 131 (930 rpm, velocity 2461 ft.sec) |
| optional under wings | 2 x 20mm MG 151 (720 rpm, velocity 1920 ft.sec) |
| external load | bomb load of 500 kg (1,102 lb) for G-6/R1 |
Service statistics:

| Me 109 G-6 | figures |
| --- | --- |
| Production | end of 1942 |
| Service delivery | February 1943 |
| Production in Hungary | not later than March 1944 (Duna works) |
| Final delivery | summer 1944 |
| Price per unit | RM 100,000 = c.$45,000 = c.£11,250 |
| Total production figure (all) | 35,000+ (of these 30,480 during WW2) |
| Accepted by Luftwaffe 1/39-12/44 (all) | 29,350 |
| Production 1939 (all) | 449 |
| Production 1940 (all) | 1,693 |
| Production 1941 (all) | 2,764 |
| Production 1942 (all) | 2,665 |
| Production 1943 (all) | 6,154 |
| Production 1944 (all) | 13,786 |
| Production 1945 (all) | 2,969 |
| Me109's in First Line Units 1.9.39 | 1,085 |
| Me109's in First Line Units 20.9.42 | 1,074 |
| Me109's in First Line Units 31.12.42 | 700 (of these 610 Bf 109 G) |
| Me109's in First Line Units 10.1.45 | 1,305 |
---
References and literature
Combat Aircraft of World War II (Bill Gunston)
Technik und Einsatz der Kampfflugzeuge vom 1. Weltkrieg bis heute (Ian Parsons)
Das große Buch der Luftkämpfe (Ian Parsons)
Luftkrieg (Piekalkiewicz)
German Aircraft of World War 2 in Colour (Kenneth Munson)
Warplanes of the Luftwaffe (David Donald)
The Luftwaffe Album, Bomber and Fighter Aircraft of the German Air Force 1933-1945 (Joachim Dressel, Manfred Griehl)
Messerschmitt Bf 109F-G in Luftwaffe & Foreign Service (Aircam Aviation Series No 40 – Francis K. Mason)
---